Coffee morning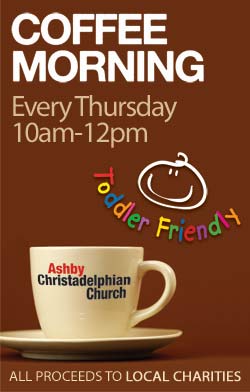 Every Thursday morning between 10am and 12noon.
Ashby Christadelphian Church Coffee Mornings are run to benefit local charities. Since we started the coffee mornings a few years ago, we have raised over £10000 for local community charities.
Currently all proceeds are going to the very worthy Derbyshire, Leicestershire and Rutland Air Ambulance.
'Regular Filter' Sessions
Share a cup of coffee (or tea) and homemade scone in a toddler friendly environment - plus toys, trucks, dolls and space - even for double buggies!
Browse the charity second hand book stall, homemade cards stand and church information to get to know us better.
'Cappuccino' Sessions
For more info visit our Saturday Coffee Morning page.
'Espresso' Sessions
For more info visit our Take a Bite page.
Need a full-on shot of Bible teaching and instruction at any another time? - any time, any place just ask. Drop in, or get in touch at bible@ashbychurch.co.uk.
Print this voucher and bring it along...